ORIGINAL ARTICLE (HEALTHCARE IN MAINLAND CHINA)
Asthenopia prevalence and vision impairment severity among students attending online classes in low-income areas of western China during the COVID-19 pandemic

Full paper in PDF
Introduction
The primary purpose of this study was to assess screen time, asthenopia prevalence, and vision impairment progression during the COVID-19 pandemic among students in western rural China. To achieve this goal, we first conducted a general descriptive analysis of student characteristics and screen time trends before and during the pandemic. We then investigated the prevalence of asthenopia and progression of vision impairment. Finally, we explored factors influencing the prevalence of asthenopia and progression of vision impairment before and during the pandemic.
Methods
Setting
Sample selection
Vision data were acquired from local vision care centres (VCs), which had been established by the Center for Experimental Economics in Education at Shaanxi Normal University, in cooperation with county-level organisations such as the local education ministries and hospitals.
Before the pandemic, VC screenings were performed in each county, except during summer and winter vacations. Staff conducted one to two screenings per week (covering 2 to 4 schools); they completed one round of screening in one town each month. In practice, approximately 1 year is needed to complete one round of vision screening for all eligible children in a particular county. The second round and subsequent rounds of vision screening were performed using a similar workflow. After the completion of vision screening, students who required further assessment were referred to the VC for full eye and refractive examinations. This study included students who had visited the VC 3 months before the beginning of the COVID-19 pandemic.
During the pandemic, VC staff could not attend schools to perform vision screenings. To maintain vision screening services for students, we telephoned all students who had visited the VC before the pandemic. Participants in this panel study were students who participated in data collection before and during the COVID-19 pandemic.
Data collection
Visual acuity assessment
Visual acuity was assessed using Early Treatment Diabetic Retinopathy Study tumbling-E charts (Precision Vision, La Salle [IL], United States). In an indoor area with sufficient light, VA was separately assessed for each eye without refraction at a distance of 4 m. Students were first examined using a 6/60 line; if they correctly identified the orientation of at least four of five optotypes, they were examined using a 6/30 line, followed by a 6/15 line and a 6/3 line. In this manner, the VA for an eye was defined as the lowest line on which four of five optotypes were correctly identified. If the participant could not read the top line at a distance of 4 m, they were tested at a distance of 1 m, and the VA result was divided by 4.
Statistical methods
Results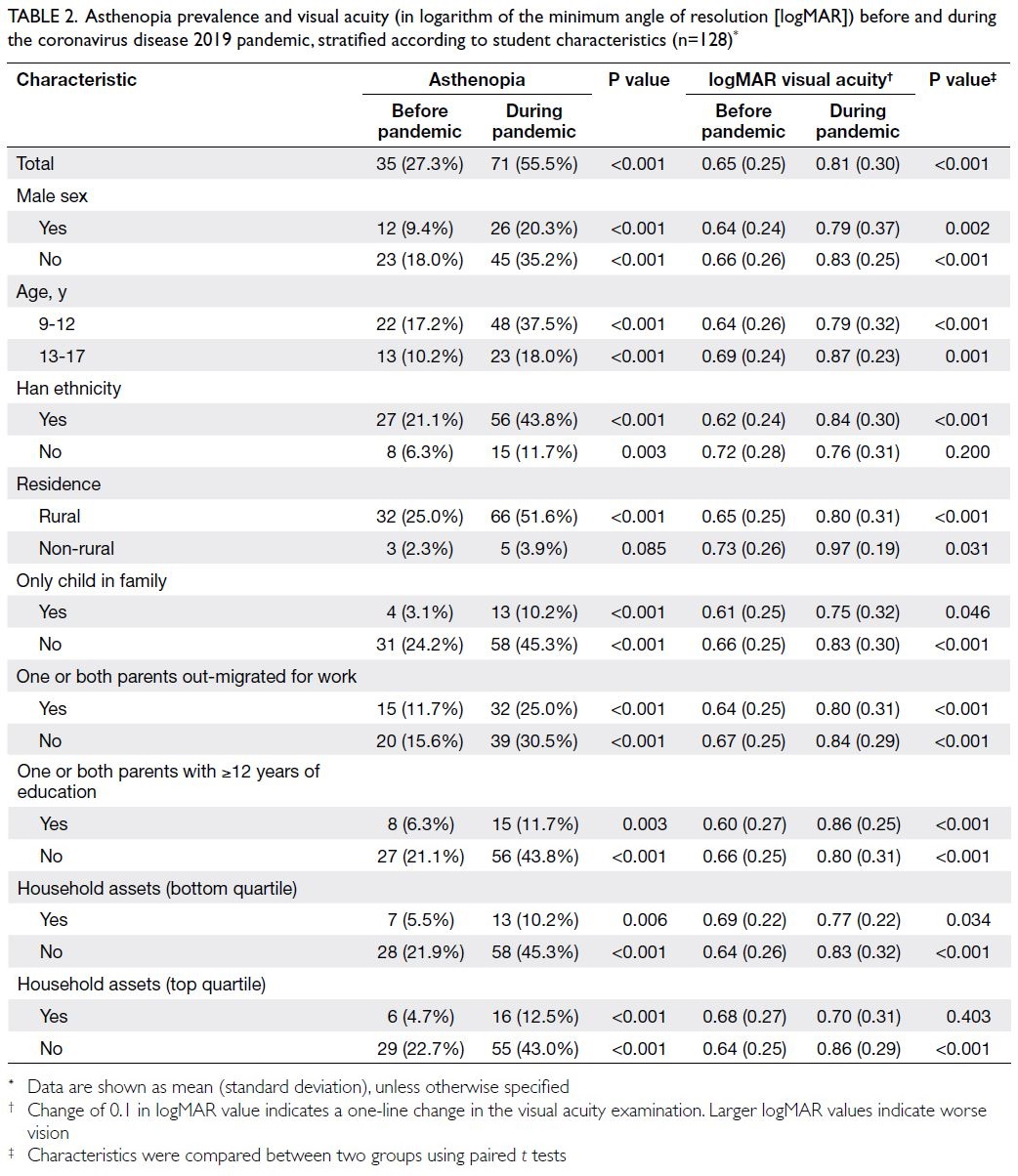 Table 2.
Asthenopia prevalence and visual acuity (in logarithm of the minimum angle of resolution [logMAR]) before and during the coronavirus disease 2019 pandemic, stratified according to student characteristics (n=128)
Discussion
This study had three important limitations. First, the screen time data were retrospectively collected through a self-reporting mechanism, which may have led to recall bias. However, considering the resource and measurement limitations that researchers encountered during the pandemic, self-reported recall was regarded as the optimal method for collection of screen time data in the present study. Second, the selection of students with poor vision may lead to underestimation of screen time effects on the general population, and the results should be generalised with caution. Third, the study was not designed to accurately distinguish between vision impairment caused by intrinsic factors and vision impairment caused by pandemic-related eye strain.
Our findings provide new evidence regarding the effects of increased screen time on asthenopia and vision impairment among students in western rural China during the pandemic; they can also serve as a basis for future research. Although pandemic-related school closures are temporary, the increasing popularity of online classes may accelerate the overall acceptance of digital devices. The use of online learning approaches is associated with multiple vision problems, which merit attention in future studies.
Conclusion
The present study demonstrated that asthenopia and vision impairment among students in western rural China were also affected by the pandemic; these findings provide critical insights regarding the effects of the pandemic on vision health in rural students. Moreover, the findings highlight important issues related to childhood vision health during the pandemic; parents, teachers, and eye care providers should consider evidence-based measures to avoid asthenopia and vision impairment in children. The current pace of economic and technological development is leading to increased use of digital devices and online learning approaches, but vision problems in rural China have not received sufficient consideration. Thus, there is a critical need for greater efforts to monitor VA and vision health among students in this region.
Author contributions
All authors contributed to the study, approved the final version for publication, and take responsibility for its accuracy and integrity.
Conflicts of interest
As an International Editorial Advisory Board member of the journal, Y Shi was not involved in the peer review process. Other authors have disclosed no conflicts of interest.
Acknowledgement
We thank Dr Wenting Liu, Dr Jiaqi Zhu, and staff from the Center for Experimental Economics in Education of Shaanxi Normal University, China for their valuable contributions.
Funding/support
H Guan received funding for this study from the National Natural Science Foundation of China (Grant No.: 7180310) and Soft Science Project of Shaanxi Province (Grant No.: 2023-CX-RKX-127). Y Ding received funding for this study from the Fundamental Research Funds for the Central Universities (Grant No.: 2020CSWY018). This study was supported by the 111 Project (Grant No.: B16031). The funders had no role in designing the study, collecting, analysing or interpreting the data, or in drafting this manuscript.
Ethics approval
This study protocol was approved by Sun Yat-sen University, China (Registration No.: 2013MEKY018) and all procedures followed the principles of the Declaration of Helsinki. Permission was obtained from the local boards of education in the study area, as well as the principals of all participating schools. All participating children provided oral assent before baseline data collection, and legal guardians provided written informed consent for their children to be enrolled in the study.
References
5. Kowalska M, Zejda JE, Bugajska J, Braczkowska B, Brozek G, Malińska M. Eye symptoms in office employees working at computer stations [in Polish]. Med Pr 2011;62:1-8.
22. National Bureau of Statistics of China, PRC Government. China Statistical Yearbook 2013. Beijing, China: China State Statistical Press; 2013.