DOI: 10.12809/hkmj164866
LETTER TO THE EDITOR
A few seconds to screen for sarcopenia
Martin Hofmeister, PhD
Consumer Centre of the German Federal State of Bavaria, Department Food and Nutrition, Mozartstraβe 9, D-80336 Munich, Germany

Full paper in PDF
To the Editor
—I thank Ho et al
1
for their very interesting article "Prevalence of pre-sarcopenia and sarcopenia in Hong Kong Chinese geriatric patients with hip fracture and its correlation with different factors" in the February 2016 issue of the
Hong Kong Medical Journal
. I would like to mention another recent sarcopenia study in elderly Chinese men and women with a mean age of 81 years. The research group led by Hong et al
2
showed that 42% of female patients and 84% of male patients with hip fracture were sarcopenic. In this study, the prevalence of sarcopenia with vertebral fracture was 34% in women and 40% in men. I agree with the authors that screening measures should be implemented more.
1
In a general practice setting, measurement of SARC-F sarcopenia scale is feasible, simple, quick and inexpensive, and does not expose the patient to any particular strain (
Table
).
3
The scale has also been evaluated in elderly patients in Hong Kong with direct measurement of muscle mass, strength, and physical performance.
4
5
If a SARC-F score of ≥4 has been measured in an older patient, diagnosis of sarcopenia can be substantiated rather quickly.
3
In my opinion, the SARC-F screen for sarcopenia should be routinely carried out among the Chinese elderly population every time they consult their doctor.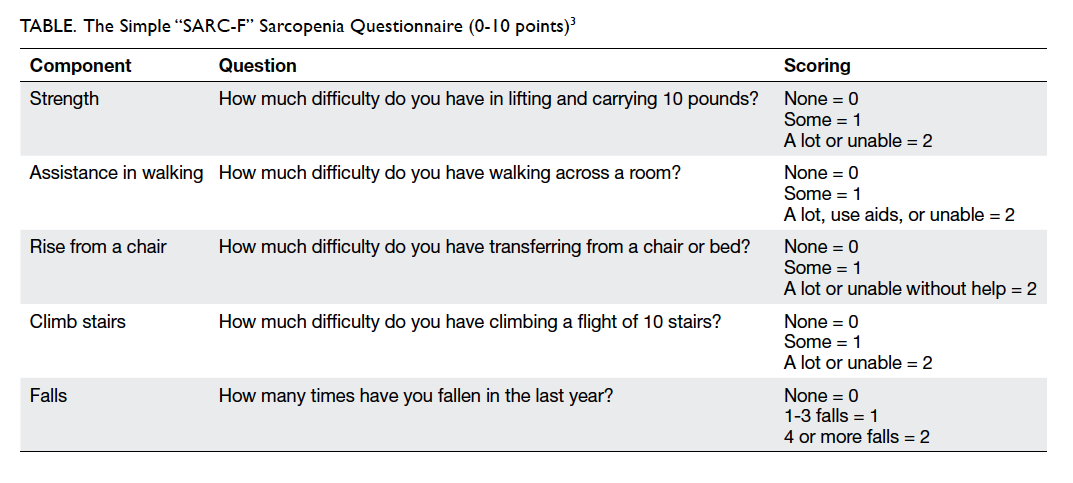 Table.
The Simple "SARC-F" Sarcopenia Questionnaire (0-10 points)
3
References
1. Ho AW, Lee MM, Chan EW, et al. Prevalence of pre-sarcopenia and sarcopenia in Hong Kong Chinese geriatric patients with hip fracture and its correlation with different factors. Hong Kong Med J 2016;22:23-9. 
Crossref
2. Hong W, Cheng Q, Zhu X, et al. Prevalence of sarcopenia and its relationship with sites of fragility fractures in elderly Chinese men and women. PLoS One 2015;10:e0138102. 
Crossref
3. Malmstrom TK, Morley JE. SARC-F: a simple questionnaire to rapidly diagnose sarcopenia. J Am Med Dir Assoc 2013;14:531-2. 
Crossref
4. Woo J, Leung J, Morley JE. Validating the SARC-F: a suitable community screening tool for sarcopenia? J Am Med Dir Assoc 2014;15:630-4. 
Crossref
5. Woo J, Leung J, Morley JE. Defining sarcopenia in terms of incident adverse outcomes. J Am Med Dir Assoc 2015;16:247-52. 
Crossref